Committee Leaders of the Central Government Visit NetDragon's Headquarters
[24 November 2008 -- Hong Kong] On 19 November 2008, a delegation of committee leaders from the Central Government visited the Fujian headquarters of NetDragon Websoft Inc. ("NetDragon" or the "Group"; Stock Code: 777) - a leading game developer and operator in the PRC.
The delegation included Mr. Ouyang Jian, Vice Minister of Ministry of Culture, Mr. Liu Binjie, Director of the General Administration of Press and Publication and National Copyright Administration, Mr. Wang Taihua, Vice Minister of Publicity Department of CPC Central Committee and Director of the State Administration of Radio, Film and Television, Mr. Luo Shugang, Deputy Head of Department of Publicity of CPC Central Committee, and Mr. Zhang Yannong, President of People's Daily. Accompanied by Mr. Liu Luyuan, Executive Director and Chief Executive Officer of NetDragon, the delegation visited NetDragon's operational department and staff facilities as well as to gain an understanding of the process of online game development and its technologies and products. The government officials are also interested in the Group's cooperation with internationally renowned enterprises such as Buena Vista Internet Group (a wholly owned subsidiary of The Walt Disney Company) and Electronic Arts as well as the future developments of the cooperation. During the visit, they praised NetDragon for its efforts in pursing development of original online games and its vision for the future.
The inclusion of NetDragon as part of the tour of leading enterprises in the Haixi Economic Zone is a clear recognition of the Group's leading position within the online gaming industry which have positive implications for the future development of the Group.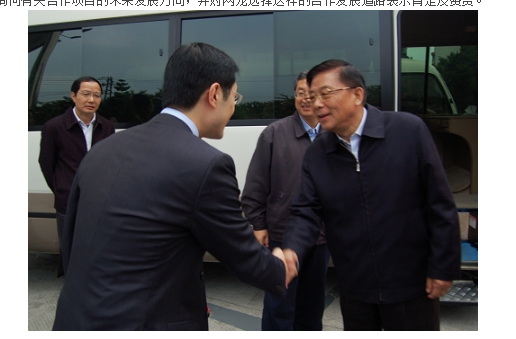 Mr. Liu Luyuan (left), Executive Director and Chief Executive Officer of NetDragon, welcomed the government official (right) in NetDragon's Fuzhou headquarters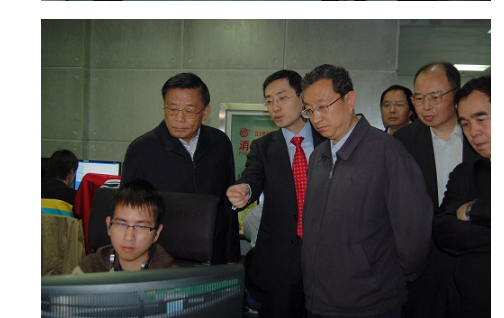 Mr. Liu Luyuan explained the process of online game development to government officials
About NetDragon
NetDragon Websoft Inc. is one of the leading online game developers and operators in the PRC. The Group's game portfolio comprises of a range of MMORPGs (Massively Multiplayer Online Role-Playing Games) that cater to various types of players and gaming preferences. The Group has successfully developed and marketed many popular online titles of various styles. Its current offerings include the games Eudemons Online, Conquer Online, Zero Online, Tou Ming Zhuang Online, Heroes of Might and Magic Online, Era of Faith, and Monster & Me. Some of the games are also available in foreign languages, including English, French and Spanish. The Group also has three games currently in development, including Way of the Five, Tian Yuan and Disney Game, which are expected to be launched by end of 2008 and 2009.
Listed on the GEM of the SEHK on 2 November 2007 (Stock code on GEM: 8288), NetDragon successfully transferred to the Main Board of the SEHK on 24 June 2008 (Stock code on Main Board: 777). For more details please visit http://www.nd.com.cn or http://www.nd.com.cn/ir.
For further information, please contact:
NetDragon Websoft Inc.
Ms. Angelina Li (Investor Relations Officer)
Tel: +852 2850 8755
Email: ir@nd.com.hk
Fax: +852 2850 7066
Porda International (Finance) P.R. Co., Ltd.
Helen Chung/ Sharis Siu/ Kate Lam/ Liz Yip
Tel: +852 3150 6730/ 3150 6771/ 3150 6738/ 3150 6739
Email: helen.chung@pordafinance.com.hk/ sharis.siu@pordafinance.com.hk / kate.lam@pordafinance.com.hk/ liz.yip@pordafinance.com.hk
Fax: +852 3150 6728