NetDragon, Cyberport and WTIA Signed an LOI
To jointly promote the development of information technology and the mobile Internet industry in
Fujian and Hong Kong
On September 5, 2014, NetDragon Websoft Inc. (NetDragon; HKSE: 0777), a leading Chinese online game and mobile Internet platform developer and operator, signed a strategic partnership agreement in Hong Kong, China. NetDragon signed a Letter of Intent (LOI) with Hong Kong Cyberport Management Company Limited (Cyberport) and Hong Kong Wireless Technology Industry Association (WTIA) for a term of one year. With the LOI, the three parties will jointly support Hong Kong-based IT companies and talents in promoting business in Mainland China and provide talent training programs and internship opportunities to drive the cooperation in developing the IT industry in Fujian and Hong Kong. The LOI was signed by Cyberport's chairman Zhou Wenyao, NetDragon's chairman and founder Liu Jiande, and WTIA's chairman Zhang Tao . Leung Chun-ying, Chief Executive of Hong Kong Special Administrative Region, Godfrey Leung, Secretary for Commerce and Economic Development, and Daniel Lai, Director of the Office of the Government Chief Information Officer, were presented at the signing ceremony.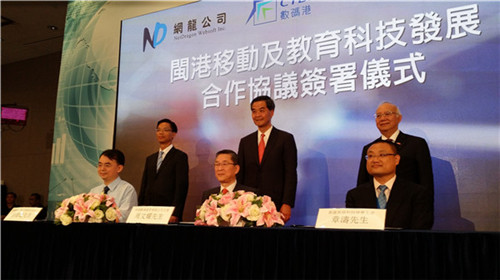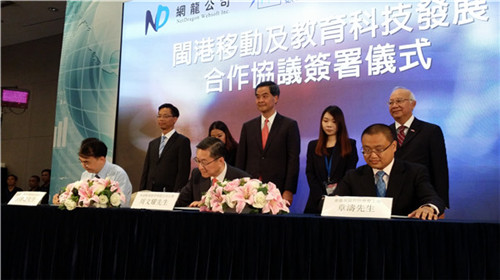 Mr. Leung Chun-ying gave a warm speech at the ceremony. He reviewed his experience in visiting NetDragon's headquarter in Fuzhou at the beginning of this year and thanked the company for driving cooperation between Fujian and Hong Kong and advancing young talent exchange. Additionally, he strongly desires to build a greater innovative cooperation platform in the future.
According to Cyberport's CEO Lin Xiangyang, this partnership enables the three parties to establish a strategic partnership to further grow local information and communication technology (ICT) industry. He is glad to sign the official agreement with NetDragon and WTIA. That will help effectively combine the advantages and experience of NetDragon with the abundant resources of Cyberport to achieve remarkable results in both Fujian and Hong Kong and lead the entire ICT industry to success.
NetDragon's CEO Liu Luyuan said the company had always been appreciating innovation. He firmly believes that this partnership will help cultivate more innovative sci-tech talents and teams in Hong Kong and motivate the mobile Internet industry and technical education industry in both Hong Kong and Mainland China.
WTIA's chairman Zhang Tao showed high expectations for the LOI. He deems that the partnership between NetDragon and Cyberport will allow more local mobile application developers to explore a bigger market in Mainland China and introduce better applications to the mainland users, driving the long-term development in this field and industry in both Fujian and Hong Kong.
It is reported that the LOI covers the following four aspects:
Professional training: Cyberport and NetDragon will jointly hold a series of professional training in Fujian and Hong Kong to assist in cultivating talents for application development, online games and mobile Internet education.
Driving local mobile applications to the mainland market: The three parties will jointly boost the development and adoption of mobile applications such as Internet education, online games and enterprise solutions. NetDragon will assist WTIA in promoting the platform for "Made in Hong Kong" mobile applications in Mainland China and support its online payments and sales.
Internship programs: The three parties will jointly promote the knowledge exchanges among ICT professionals from Fujian and Hong Kong and provide internship opportunities for mobile applications, game design and development, and mobile Internet education. NetDragon will provide the quota of interns whereas Cyberport will designate junior college students to NetDragon's headquarter in Fuzhou for internship.
Digital classroom: NetDragon will set a "Digital Classroom" exhibition center at the Cyberport of Hong Kong to promote mobile Internet education.
The partnership will help strengthen talent and knowledge exchanges between Fujian and Hong Kong, accelerate innovations, and take advantage of the potentials and opportunities brought about by mobile applications and games to create new opportunities for the communication and cooperation between the two places.